Greetings from Gibson Pewter
Summer seems to have flown by and we're now enjoying the onset of Fall Foliage. It looks like peak foliage in our area will be the week before Columbus Day. So plan to visit soon and don't forget your camera!
Completely New Look & Feel to Our Website
We're happy to announce the arrival of our all new website. Thanks to Roger Goode of The Proper Pup Studio, we have a new look and some amazing new features, which include:
A complete redesign: The site has been rebuilt from top to bottom, using a powerful new platform. In the process, we've updated the whole look.
A convenient new Shopping Cart: to make your shopping experience more enjoyable, we've added a shopping cart and wishlist function. We still don't take card orders on the site, but this should make your use of the site easier and more convenient.
More ways to find things: The new site provides multiple ways to find what you are looking for… you can browse galleries, jump to items by category from the sidebar, or use the powerful search function.
Optimized for mobile devices: The entire site is now Mobile & Responsive. No matter what device you are using to view with—computer, tablet, or smartphone—the site will adapt to present you with an optimal view for that size screen.
We hope you find the new site a big improvement. We welcome your feedback to make it better still.
Great New Charms Added
Be sure to check our new expanded line of cast pewter charms and our very popular bangle bracelets. One size fits all!
 
2014 Christmas Ornament
We're happy to introduce our 2014 Annual Christmas Ornament, Buck in Wreath. He's inspired by the elusive big guy we had the pleasure of seeing in one of our fields last year. Each ornament has a red ribbon and comes in a white gloss gift box.
More Antiques Available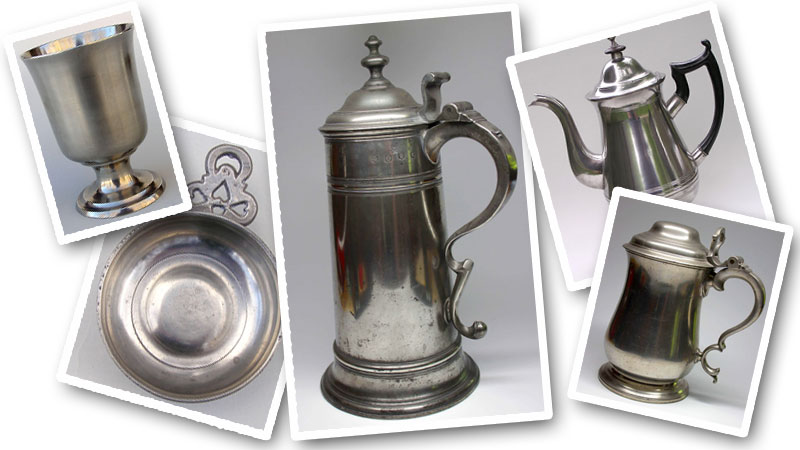 We've added some more antique pewter! Check out the Antiques page on the website. We have more inventory coming soon. Stay tuned!
NH Open Doors Studio Tour
Don't forget to mark your calendars. We're taking part in the NH Open Doors studio tour again this year. I'll be demonstrating metal spinning Saturday & Sunday, November 8th & 9th from 9AM-5PM on both days. Come on up and bring a friend!
With all good wishes,
Jon & Camille Gibson